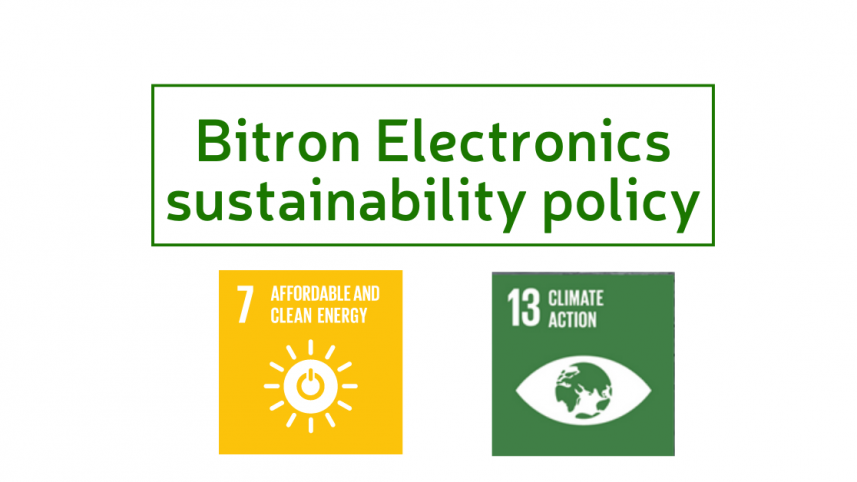 Bitron Electronics Sustainability Policy
GHG EMISSIONS
PURPOSE AND SCOPE
Bitron Electronics is dedicated to sustainability, with a strong focus on minimizing Greenhouse Gas Emissions. To achieve this goal, specific and practical, Bitron Electronics will implement the following measures.
SCOPE 1 – DIRECT EMISSIONS
According to GHG protocol Scope 1 emissions at Bitron Electronics primarily result from natural gas consumption for environmental heating and Combined Heat and Power (CHP) at our plants. In a medium-term perspective, we are committed to reducing these emissions to zero by optimizing efforts and investments.
To achieve this, we have decided to refrain from acquiring and installing new gas-powered systems in the future. Instead, during the normal refurbishment process, all existing gas-powered systems will be gradually replaced with new electric or carbon-neutral installations by the year 2040 at the latest.
SCOPE 2 – INDIRECT EMISSIONS FROM GENERATION OF PURCHASED ENERGY
Scope 2 emissions are associated with the electric consumption of our plants. Since 2022, Bitron Electronics has been dedicated to eliminating these emissions entirely (Market Base) through various initiatives, including:
On-site renewable energy production, such as photovoltaic systems.

Purchase of Guarantee of Origin (GoO) or Renewable Energy Certificates (RECs) for grid-supplied electric energy.

Establishing specific agreements with electric energy suppliers.
SCOPE 3 - INDIRECT EMISSIONS FROM UPSTREAM & DOWNSTREAM ACTIVITIES
Scope 3 emissions at Bitron Electronics primarily arise from the goods purchased for our final product production. To address this, we continuously focus on reducing Scope 3 Emissions through an Eco-Design approach. We start from measuring the environmental impact of products and components during their entire Life Cycle (using LCA methods) and, thanks to the aware analysis of results, we can take the most effective actions in order to improve.
This sustainability policy applies to all aspects of Bitron Electronics' organization, its employees, and its activities, reinforcing our commitment to environmental responsibility and sustainable practices.
Gallery