Bitron is a leading manufacturer of a wide range of products used for the manufacture of washing machines and dryers.
Applications include water control (solenoid valves and safety systems), detergent and liquid distributors, bulk dispensing devices, water softeners, doorlocks, various types of switches and sensors (including pressure sensors) as well as a comprehensive range of electronic main control-boards and user interfaces. We are available for the development of customized solutions.
Inlet & Safety Valves
Description
Water inlet and safety valves control the water flow into an appliance. Bitron has become the leading solenoid valve supplier to the worldwide appliance market and supplies domestic, professional and industrial markets. Typical valves for washing machine are multiple outlet type.  Bitron safety valves can be single or double valves in series, as well as double hose to detect hose leakages leaving the hose water pressure relieved during off time. Complex hydraulic circuits may include a motorized diverter in order to reduce the number of valves, connections between inputs and outputs, and pressure losses.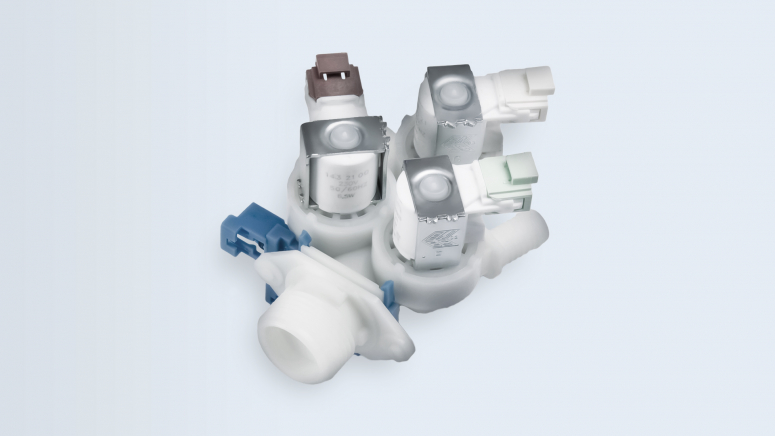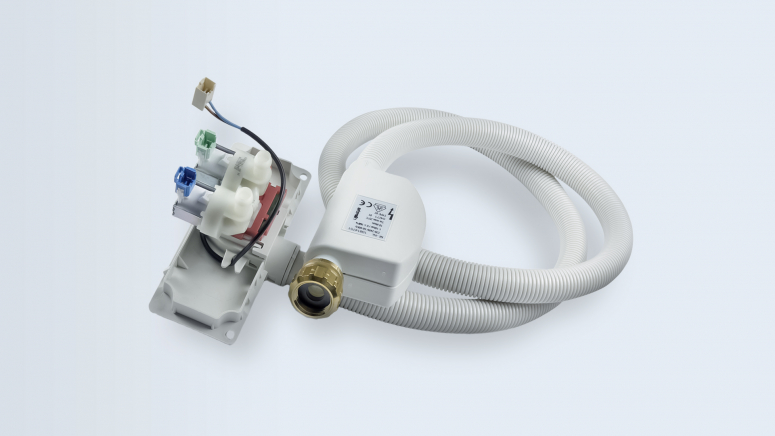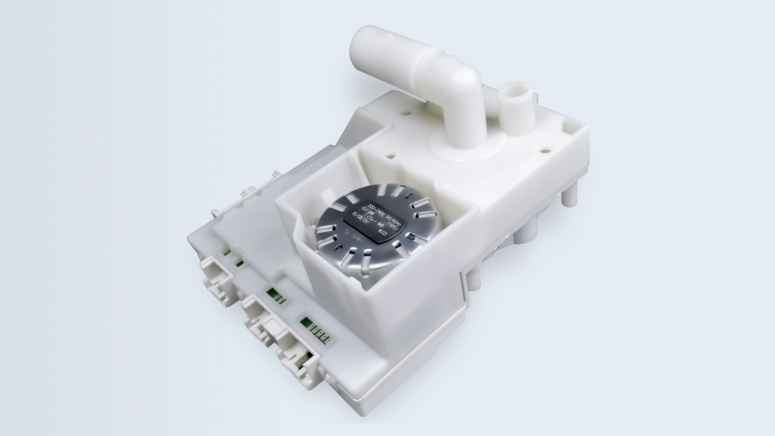 Key features: 
Solenoid valve bodies: from 1 to 2 inlets and from 1 to 6 outlets

Safety valves: from 1 to 2 valves,  with protective hose and nut.

Electric and

Pneumatic

actuator

Operating pressure range: 0.02Mpa up to 1Mpa

Standard Working Temperatures: ambient max.60°C;medium 90°C;storage -30/+80°C (on request could be customized)

Power supply: DC or AC, from 12V to 380V

Flow regulator: from 0.25 L/min to 20 L/min

Electrical connections:

Rast

2.5; Rast-5; fast-on 6.3x0.8 mm

All

major

approvals

Sensors: flow, temperature
Door locks
Description
Several standard and customized product families are available for washing machine and  dryer door locking and latching applications. Electrical box may be PTC delayed, with or without ambient temperature compensation or instantaneous operated by solenoid actuator with safe mechanism against input failure or motorized doorlocks. Solutions for Pull to open, Push to open or door with handle are available in our portfolio.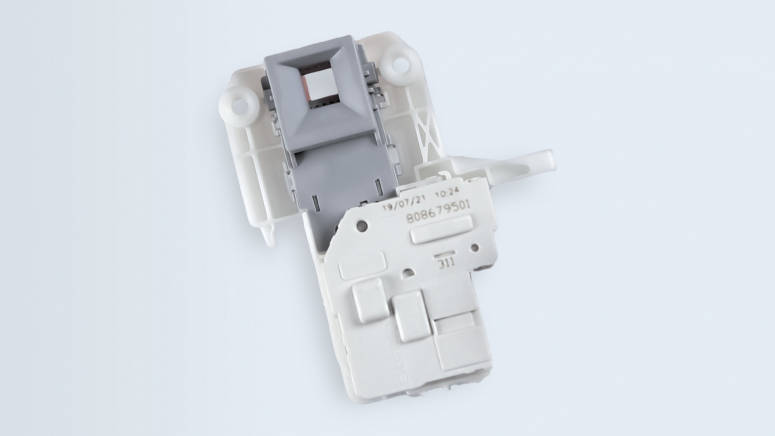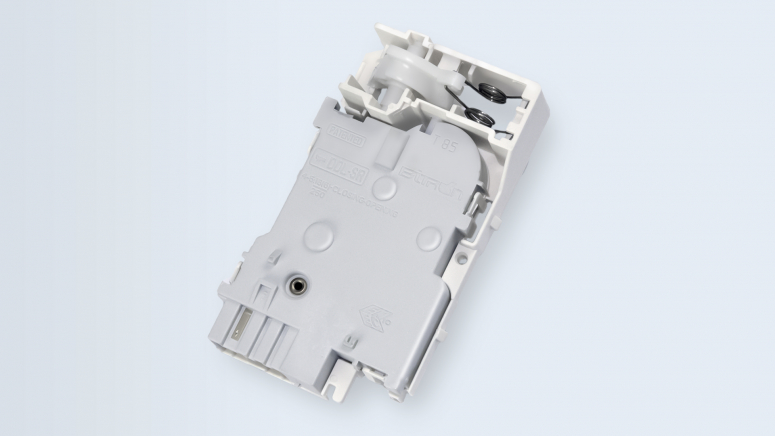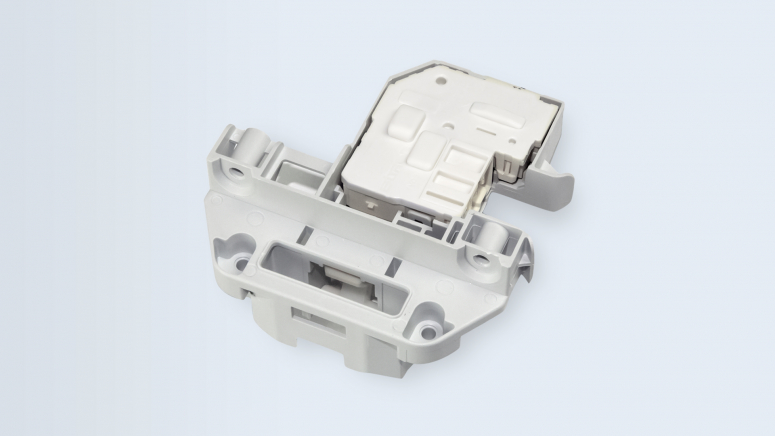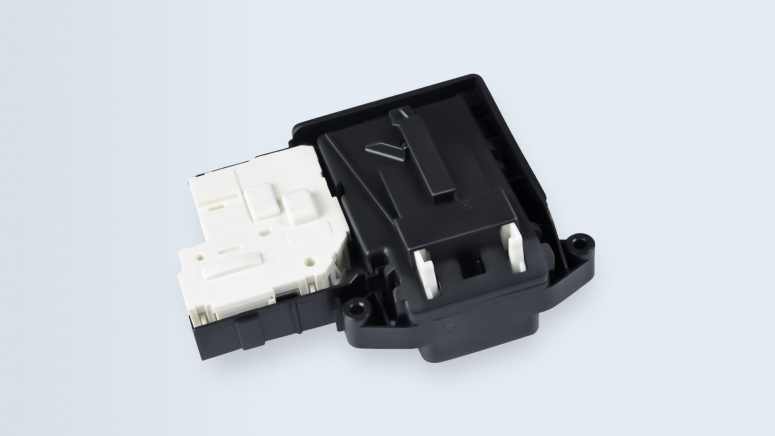 Key features: 
Rated

voltage

from 12V DC to 120/250 V AC

Further

solutions

can be

developed

in co-design with the customer

Mechanical

Interface with appliance

is

customized

according

to customer

request
Detergent dispensers and pumps
Description
Bulk dispensing of liquid detergent and fabric conditioner. Peristaltic pumps with lifelong high-precision flow rate. Optimized consumption and washing performance. Customized systems with level sensors and electronic control for automatic dispensing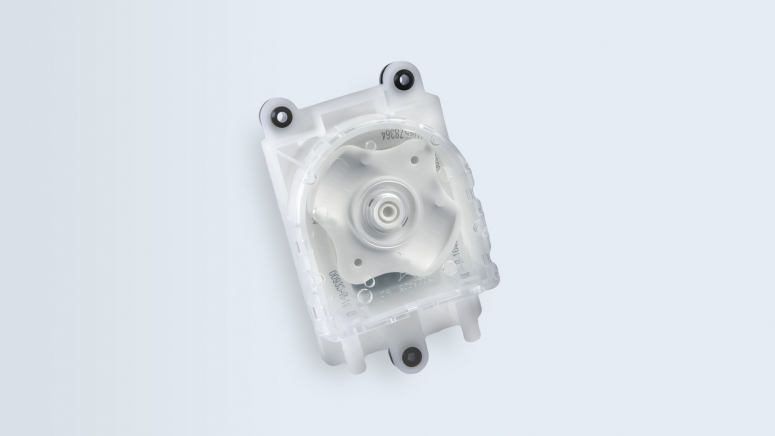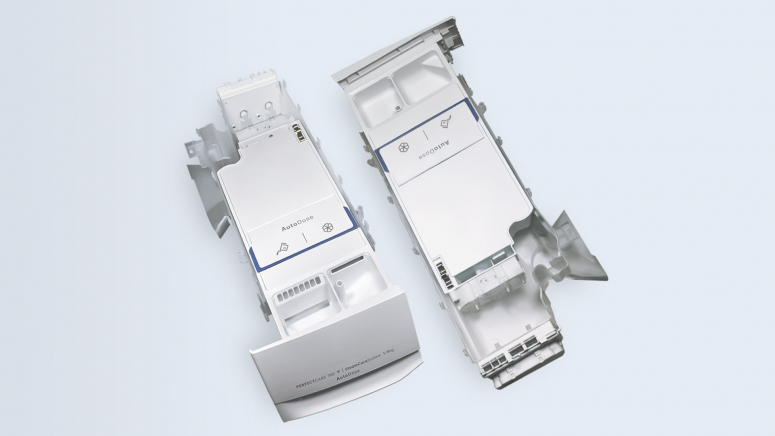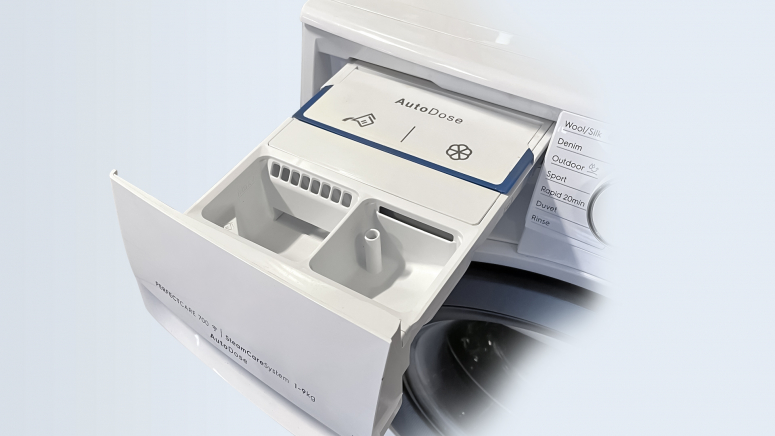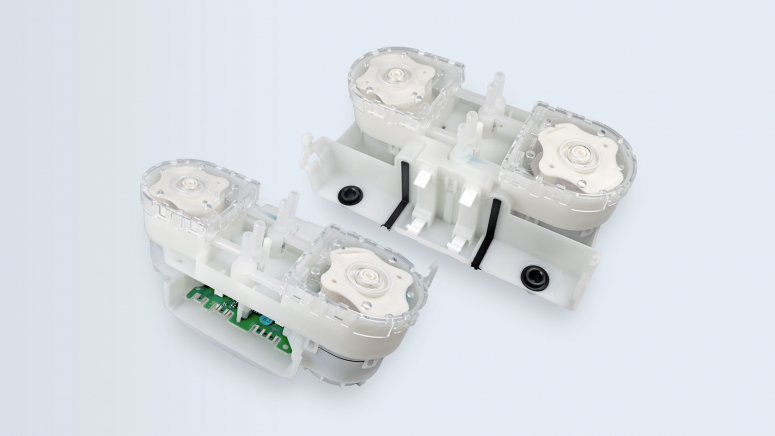 Key features: 
Flow rate: from

27

cc/min to 100 cc/min

Lifetime maintenance-free self priming pumps

No

check valve required

Flow rate is independent from voltage fluctuations and liquid

viscosity

Voltage supply: mains voltage and low voltage

Level indication: by optical sensor

Detergent capacity: approx. > 1000 cc

Fabric conditioner capacity: approx. > 700 cc
Water Softeners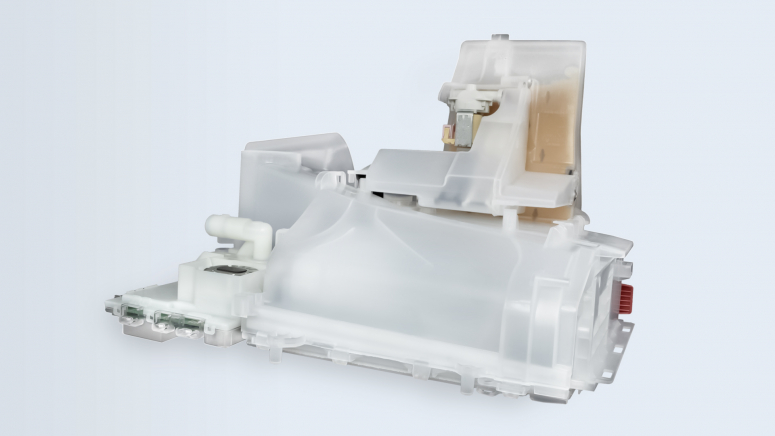 Key features: 
Ion exchange resin softens the water used in wash and rinse cycles

Improves color brightness and fabric life

Minimizes detergent and energy consumptions due to water hardness

Resins regeneration made by salt

Sensors for water flow and water hardness (options)
Pressure sensors
Description
The Analogue Pressure Sensor is an inductive sensor (LVDT) that measures precisely the pressure and allows the control of the water level inside the washing machine or dishwasher. The "in circuit" calibration gives a customized output characteristic. No software is needed in the main circuit, a hardware internal control (Periodic Self-Test) of the device ensures that the sensor is equivalent to a class B.
Key features: 
Power supply 5V+/-05

Resolution 0.3 mmH

2

O (3Pa)

Negative pressure measurement possible

Calibration: calibrated in five points all over the range

Pressure ranges: from 0-200mm H

2

O (0-2000Pa) to 0-600 mm H

2

O (0-6000Pa)

Frequency output is independent from the supply voltage; ranges from 26kHz to 10Hz

Voltage output available
Switches and other sensors
Description
Bitron produces a wide range of switches and sensors for washing machines and dryers. Special sensors can be developed according to customer requirements.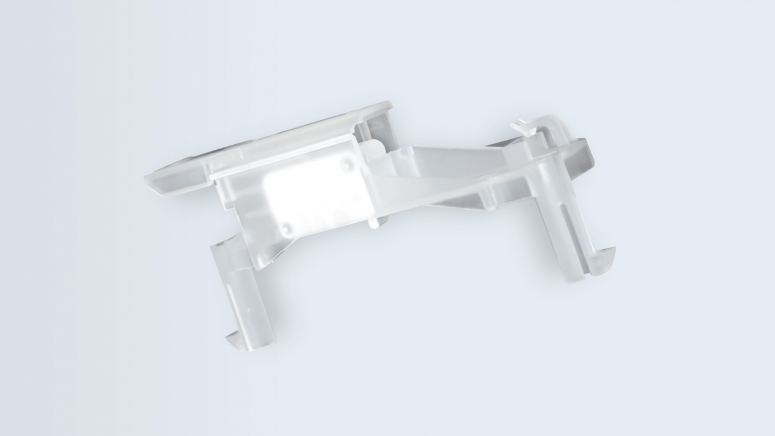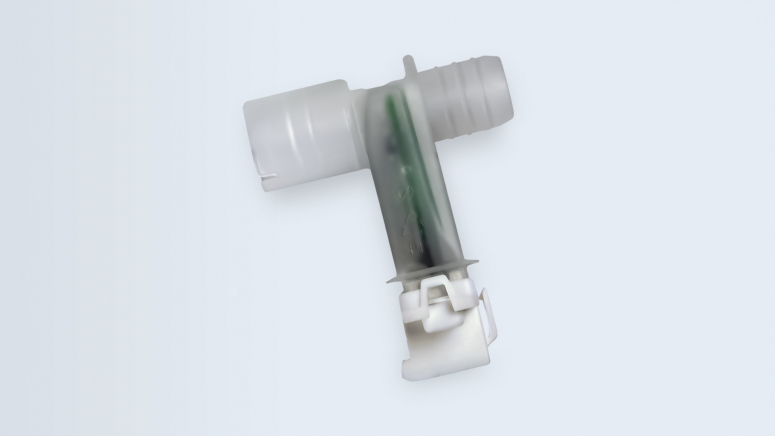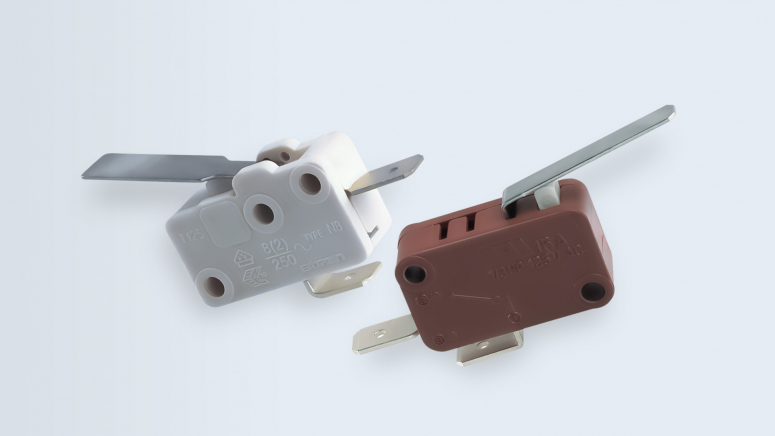 Key features: 
Microswitches: high & low activation force (ie. from 10g to 400g)

Floaters for safety valves & other applications

Pressure switches for high & low pressures
Sensors, several types are available for:
Position detections: on different conditions and applications

Water parameters such as: flow, pressure, level, temperature, conductivity, turbidity, hardness
User interfaces
Description
User Interfaces for Washing machines and Dryers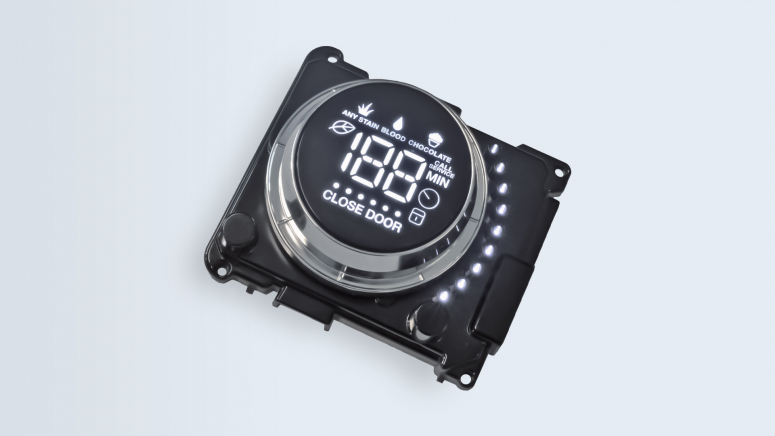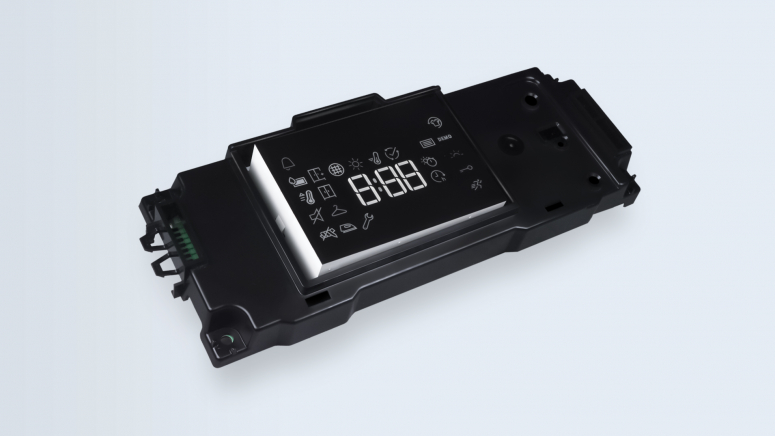 Key features:
Embedded 32-bit microcontroller with TFT

/LED image database memory

TFT

/LCD or LED module driving

RGB

 LED driving incl. Light effects

Low-cost customized LED modules

LCD with icons, digits, full graphics

TFT 

with or without embedded touch

Dynamic TFT

 image management

Knob with integrated display

Connectivity W

iFi

/BLE

/NFC

 embedded

Capacitive touch/input interface

Single or multi-key functions

Water/steam proof touch algorithm

Aesthetic panel design and manufacturing

Knob, light ring, TFT

 frame

Chrome finishing, soft feel finishing

PC film with tampon printing

In-mould decoration

Back housing frame for PCBA

 and HMI

 front

Integrated gasket and sealed cable outlet
Main boards
Description
Main boards for Washing machines and Dryers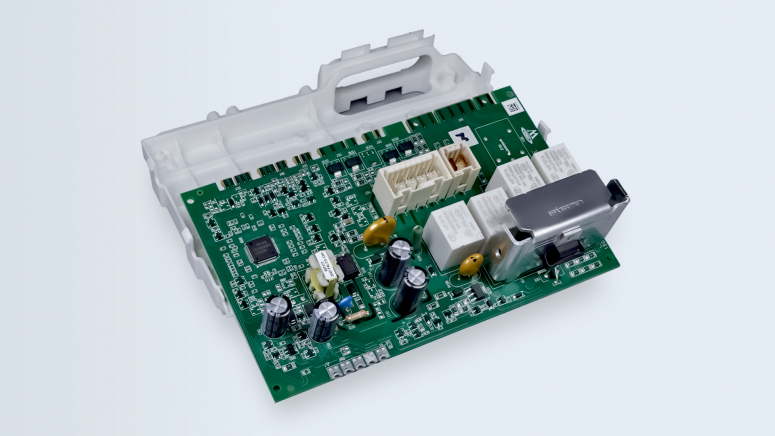 Key features:
32-BIT MCU

 for whole machine management

DC load driving (ON/OFF and PWM

)

AC load driving

Low standby energy consumption

EMI/EMC

 filter embedded

DC sensors management

for temperature, turbidity, hardness

AC/DC signal inputs

for door sensing, digital input and

analog

sensing

Data communication W

iFi

/BLE

/serial

HMI

/UI

/remote boards connections (supply and insulated data communication)
Motor drives
Description
Inverter for Washing machines brushless motors and Dryer compressors brushless motors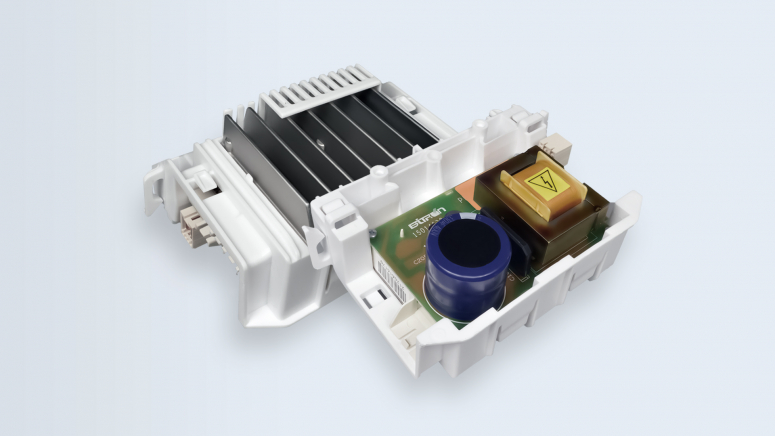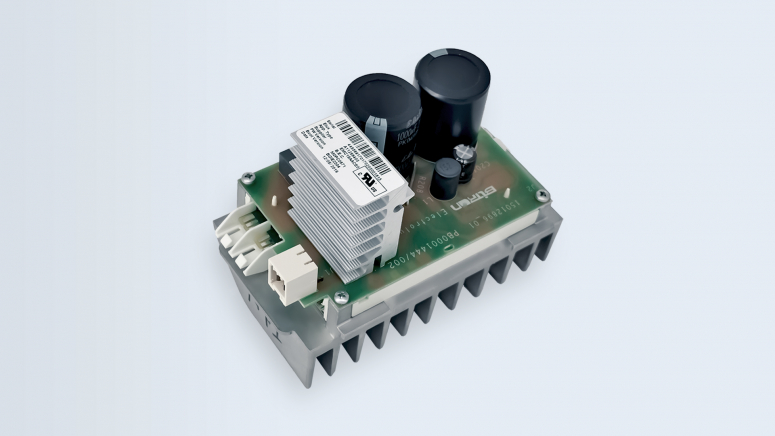 Key features:
Efficiency >97% (full load)

Synchronous motor (BLAC

/BLDC

)

Discrete or IPM

 power stage topology

Sensorless

motor driving algorithm available

Embedded EMI

/EMC

 filter for optimal noise rejection compliance

Embedded PFC

 (active or passive) compatible with EN

 61000-3-2

US, EU

, emerging markets or extended  range voltage input

Low stand by consumption solutions

Plastic housing fitting on machine / or motor shell 

Custom heatsink design

Thermal management solutions